You can't go wrong with a night in front of the TV, a takeaway and a bit of Take Me Out on Saturday night…right? However, while the show itself may seem a bit off-the-wall, you've apparently seen nothing in comparison to what really goes on when the cameras aren't filming.
Apparently, love isn't the only thing on the girl's minds. Typically, you can expect a great deal of gossiping behind backs, tantrums and even completely trashing the contestant mansion behind-the-scenes.
One particular contestant who appeared on the show revealed that while it may seem like a guy's total dream to be in the presence of 30 stunning girls, it can have quite the opposite effect.
25-year-old contestant Bayo Adeoshun told LadBible: "It's literally the scariest thing I've ever done."
"When you go down the love lift, your adrenaline is pumping so hard. But you just go out there and hope the girls aren't too brutal."
The girls don't have an easy time of it either apparently. While we may imagine they turn up to the show in all their finery, a female contestant from the 2017 series revealed the serious amounts of prep that goes into filming each episode.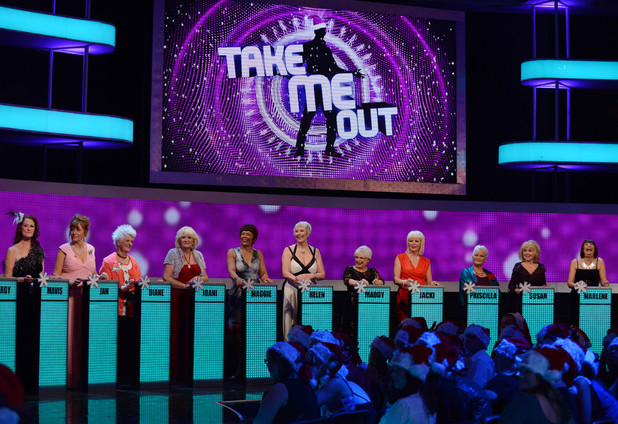 Former contestant Leanne Rees went on to tell LadBible: "You stay in a hotel in Maidstone. It's a 6am start, then you spend all day at the studio – make-up, rehearsals, filming – until gone 11pm. That's just for one episode. Then you get up and do it all again the next day. It's pretty shattering."
Apparently, each girl is expected to bring along ten outfits per show, as well as a pair of nude and black shoes should they need to change. These rules are set in place to make sure that all of the girls are dressed to impress for each episode. If that seemed a little OTT, the wardrobe department are also on hand to assist in the dreaded event of two girls wearing the exact same outfit.
Leanne also told The Daily Star Online: "It's filmed really quickly. There are nine episodes in the show and it's literally filmed over nine days with one rest day. It's a show a night. We do a rehearsal in the day then film the show in the evening with the live audience."
If you've ever wondered how the girls manage to reject the guys that just don't 'float their boat', Leanne continued to tell the newspaper that the subject has to be handled delicately so as not to burst the guy's bubble.
"Paddy [McGuinness] asks about 10 of us why we turned our lights off or left them on. It's really difficult the first round. You can only judge someone on their looks because that's all it is," she said.
"You can't go, 'You're ugly' or, 'You're not my type'. You've got to be nice about it because it took them a lot of guts to come down."
She also went on to admit that while most girls are taking part with the best intentions at heart, others may have applied for the show for different matters entirely.
"Some are looking for love," she told LadBible."I think others just want a couple of days in the sun. It's hard to judge whether to leave your light on. I wanted a date but I was always thinking, 'What if my soulmate is the next person to come down and I miss him?'. In the end, neither happened."
"There are WhatsApp groups and you'll get people sending you private messages. There have been a few nights out since filming – Liverpool, Leeds, Newcastle.
"There's drinking and there's always hooking up. I know there's been one proper relationship. It's inevitable. It's a group of single people who have all had a common experience."
All of the shows are planned in advance, with rehearsals starting at around 4pm in the afternoon while the filming starts at around 7pm. However, contestants are expected in the studio at around 10am and may not leave until around 10pm on some occasions.
While plans are put in place, the girls don't have the opportunity to see boys taking part in the episode until the show is filmed. The girls are of course, given separate dressing rooms to avoid meeting and are kept completely separated backstage throughout the entire daily schedule.
During rehearsals, stand-ins for the boys taking part are used, so jokes can be rehearsed and everyone gets an idea of how the show will run.
A former contestant admitted that while girls not allowed to see the guys before coming down in the Love Lift, they may be told by producers whether the next boy to appear would make a suitable match for them.
Talking to The Debrief, a former contestant said: "When they have the break before each guy comes down the love lift they'd tell us if they thought he would suit any of us or warn us if he was going to be a bit different.
"We got told to be very open-minded though and you couldn't just turn your light off because someone wasn't your usual type or was a bit short or whatever. You were only meant to turn your light off if there was a real reason so that was quite hard."
While it has been previously suggested that the show is scripted, producers have denied such claims and revealed that the girls are expected to brainstorm their own jokes and one-liners pretty much there and then.
A spokesperson for the show once stated: "We strongly refute any claims that we tell any contestant how to act or respond. We do not encourage contestants to drink alcohol and turning a light on or off is entirely up to individual choice."
Also, if you hadn't guessed by now – The Isle of Fernando's is completely fictional. If you didn't know, we're sorry to break the news to you! The couples do, however, jet off to Tenerife for a short break (so it's not all doom and gloom) and whilst there, are even given separate bedrooms.
Catch Take Me Out, Saturdays on ITV 1.