Kate and Gerry McCann have been given an extra ray of hope, with police now asking for further funding in the search for Madeline.
According to cops, the extra sum of cash will pave the way for investigation into the 'final lead of inquiry' which may solve the case known as 'Operation Grange' once and for all.
At the current time, funding is set to run out in less than two months, therefore the way in which the money is spent is now more crucial than ever. The current funding stands at £154,000, but Scotland Yard have failed to release the new amount which has reportedly been requested.
According to Sky News reporter Martin Brunt, the final decision on whether more money will be added to the fund may take "some time".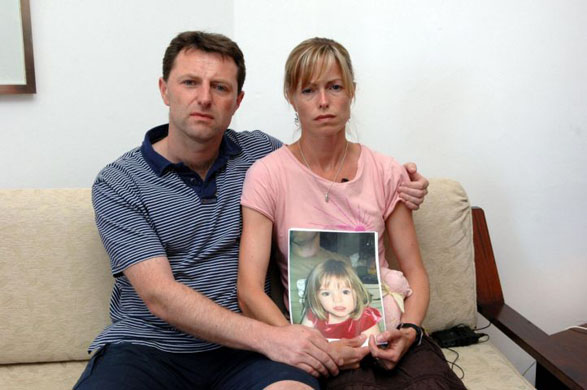 The Home Office did, however, release a statement on the matter and confirmed today:
"The Metropolitan Police has made a further application for funding, which is currently being considered. The resources required are reviewed regularly with careful consideration given before any new funding is allocated.
"As funding is in place until the end of March we wouldn't expect an application to be submitted for consideration yet."
If funds are rejected, the parents of the missing girl have stated that they will continue to search for their daughter alone, but have said that they are extremely grateful for the efforts from police over the past eleven years.
A spokesperson on behalf of the McCann's said: "This remains entirely a matter for The Met Police and Home Office. But Kate and Gerry are extremely grateful to police for all they have done and are doing in the continued search for their daughter."
Madeline went missing back in 2007 in Praia da Luz, Portugal, and since then, approximately £11.2 million has been taken from the taxpayer to help fund the search.
Martin Brunt also added that Scotland Yard are determined to keep the investigation ongoing as long as possible: "The situation at the moment is that there is Home Office funding to keep Scotland Yard's part of the joint investigation with the Portuguese going until the end of March," he said. "But Scotland Yard has asked for more money."
He went on to suggest that although many believe the case should be closed, "Scotland Yard feels it hasn't come to the end of the line".
As it currently stands, funding for 'Operation Grange' has been allocated every six months since 2007, however, how long this will continue to be the case is not yet known.
While government funding may not be an option for Maddie's parents, it's been revealed that Kate and Gerry already have their own backup fund should the worst-case scenario occur in terms lack of funding.
A source claimed that the couple have a large £728,505 in their own bank account, which they are ready to spend should the government fail to provide more cash.
The private fund known as 'Find Maddie' is made up of both public donations and earnings from the best-selling book on the case, written by Kate herself.
A family spokesperson added that the McCann's are hopeful for the government to put aside more cash for Operation Grange, but are also ready to add in their own savings if needs be: "The Met Police will put in a further request for funds if they feel work still needs to be done." they said.
"Money in the Madeleine Fund gives Kate and Gerry the option to pick up their own inquiries again, if they choose, with private investigators."
The siblings of Maddie; twins Sean and Amelie recently hit their teens after celebrating their 13th birthday. Maddie was three at the time of the disappearance and would soon be turning 14.
Kate heartbreakingly told the BBC that although her eldest daughter isn't around, she still buys gifts for her birthday and at Christmas time, should she ever come home:
"I obviously have to think about what age she is and something that, whenever we find her, will still be appropriate. so there's a lot of thought goes into it." she said. "But I couldn't not, you know; she's still our daughter, she'll always be our daughter".
With the twins celebrating their big day, they blew out the candles on their cake, but said that their only wish was for "their big sister to come home."
In attendance at the celebration were close family and friends of the McCanns, with one guest telling The Sun that Maddie wasn't forgotten: "There will be prayers to remember Madeleine as well wherever she is. Kate and Gerry want to give the twins a memorable occasion, they're teenagers now and that's a big deal.
"But the party will be marred with a tinge of sadness because Madeleine is not here to join in the fun."
Kate told The Sun back in 2015 that the twins have "grown up essentially without Madeleine but knowing their sister is missing and they want her back. They are up to date, they know everything, they know if we are meeting police. There is nothing kept from them.
"They have their own friends and they keep busy and they're really sporty but their only wish is for their big sister to come home. We miss our complete family of five. As a family 98 percent of the time we're busy. I don't know if that's a conscious thing but it helps. The urge to look for Madeleine absolutely hasn't changed at all."
The parents confessed that it has been a struggle for the twins to come to terms with their sister's disappearance but have aimed to create an environment which is "as normal as possible".
There have been many false leads within the case over the years, however, one teenage girl quite a stir on social media last year after claiming that she was missing Madeline.
Comparing the spot on her iris and small brown spot on her left leg with Maddie's unique features, 18-year-old Harriet Brookes wrote in a Facebook group chat: "Right guys. I don't usually believe in conspiracy theories but honestly, I think I'm Madeleine McCann."
The post was shared on social media and the teenager received a severe backlash from angered users.