Liverpudlian soap opera Brookside graced our screens for over 20 years on Channel 4, running between 1982-2003. Popular with teens all over the UK, the soap's characters became some of the most well-known faces on TV, however many of the actors who appeared in the soap have led troubled lives, with some even meeting tragic ends.
Was it all down to the 'curse of Brookside'? Here are just a few tragic stories of some of the soap's best-known actors:
Dean Sullivan
Dean Sullivan who played the role of Jimmy Corkhill was left 'devastated' by the sudden death of his brother, who was tragically knocked off his bike and killed.
The 61-year-old gardener was said to have been cycling when a white van collided into him. He suffered bruising on the body and injury to the elbow, which later became severely infected.
Dean made a statement to pay tribute to his brother: "He was a lovely man. He kept himself to himself but we had his burial service on Friday and it was packed with people.
"All his friends were there and everyone who knew him. He was so well thought of. Barry loved gardening and he used to come to Wallasey to do my garden. For his funeral, I picked a rose he had grown in my garden to wear."
Dean also hasn't had an easy time professionally, after having just a few small guest spots since leaving Brookside in 2003. Over a 15-year span, he has only taken on three acting credits, according to his IMDB profile.
Jennifer Ellison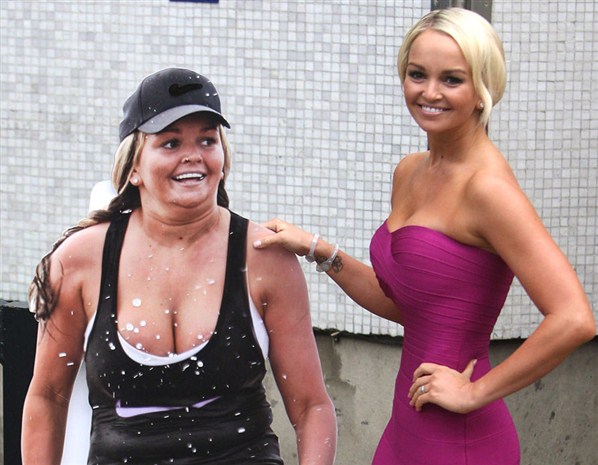 Well-known for becoming a media personality, Jennifer Ellison initially gained fame when appearing in Brookside in the late 90's as Emily Shadwick. Since then, she has gone on to have a career in glamour modelling, singing and later went on to star in the reality show, Dance Mums.
However, it's no secret that Jennifer has struggled drastically with her weight over the years and is now at her heaviest, weighing 14 stone. Despite her fuller figure, Jennifer admits she's the happiest she's ever been, but her outlook hasn't always been so positive.
The 34-year-old admitted that she's been branded as 'ugly' by online trolls, which she had struggled to deal with, but told The Daily Mirror: "I don't care about trolls. What I look like is not a priority. My husband still looks at me the way he did when I was nine stone, after doing my fitness DVD. I'm happy and feel so loved.
"I don't want to fluctuate all my life, I've done every fad diet under the sun – as soon as you start eating properly again, you put it all back on. I'm known as a yo-yo dieter".
Jennifer also went on to discuss that she had also suffered from postnatal depression after the birth of her first soon Bobby back in 2010. In an interview with Lorraine at the time, she said:
'There was a kind of baby blues that never went away," before stating that it was her mum who noticed that something wasn't right: "She saw the signs straight away, so my postnatal depression was treated pretty quickly" she said.
"If you only look at adverts on TV, we're programmed to think that this is the most special time in your life and you're going to have this instant bond and this instant connection. And for some mum, it just doesn't happen, and then they feel that they're a failure".
Brian Regan


Brian Regan who played the role of Terry Sullivan in the soap has been in prison since 2013 after plotting the murder of an Iranian man, Bahman Faraji. The 44-year-old was killed outside a pub and police arrested Regan for perverting the court of justice. While he was not charged with murder, he was prosecuted for lying during the early periods of the investigation.
With fears that he may be attacked whilst banged up, Regan was said to have been locked in solitary confinement for his own safety.
Cheif inspector Neil Bickley reported: "The last thing the police need at the start of an investigation is somebody trying to wrong-foot them. That's clearly what Regan's statements were intended to do.Fortunately, we were not wrong-footed for too long but it is completely unacceptable to mislead the police at any time and certainly at the start of a murder investigation when time is so critical for us. The jury was told that on the way to the police station, Regan said: 'I done nothing wrong and I didn't do anything willingly." Regan also went on to tell police: 'I want to help you but I'll be shot.'

Michael Starke
Michael played the role of Sinbad for 16 years in Brookside, however, went on to star in Coronation Street as Jerry Morton from 2007-2008. It wasn't long before he was axed from the ITV soap by producers, which left the 60-year-old understandably bitter. In an interview at the time, he said: "They made a mistake and I think they know they made a mistake in getting rid of us.
"The TV world can be faceless. I don't know the individuals responsible but things could have been handled better. I loved the other actors and the crew are wonderful. I'll always be a Corrie fan. That'll never change."
Paul Usher
Paul Usher received an influx of tributes after the sudden death of his 24-year-old son, James and a source close to the family stated that he was 'in bits' over the devastating loss.
Before his death, James was working on an onboard a dive support vessel, however, his body was later found by colleagues at around 1.30am. It was reported that his death was not suspicious.
Jame's boss from Technip UK Limited of Aberdeen, made an emotional statement after discovering the shock death of his young employee:
The statement read: "Technip UK Ltd staff and the crew of Skandi Achiever are deeply saddened by the loss of their colleague James Usher who died after being found unconscious in a recreation area on the vessel."
Kristian Ealey

Kristian who played the role of Matt Musgrove in the soap between 1998-2000 reportedly passed away after suffering from a 'pain in his arm.' According to one of his co-stars Suzanne Collins, Kristian had been complaining of the ache for a number of days and was later believed to be his cause of death.
The actor was reportedly a successful musician well-known in Italy, but died in his sleep at the age of 38 on 2nd May 2016. Kristian had also gone on to appear in Hollyoaks between 2000-2004.
"I'm very privileged to have called him a friend." Suzanne said of Kristian.
"There were a gang of the young ones who grew up on the set of Brookside, we called ourselves the Brookie Brat Pack and have an incredible bond. We were together nearly every day on set and we socialised out of work together, we became family. It has shocked us all to the core. Kris was full of life, full of smiles and so full of music."