The Full Monty was one of the surprise success stories of cinema in 1997. Almost universally praised upon its release, the British cult classic went on to become one of the most successful British films at the box office ever, and even surprised the film industry with four Oscar nominations.
In fact, had it not been for the fact that it was always going to be Titanic's year, The Full Monty might have just been in with a shout of the actual gold statue, given that – though it's principally a comedy – the film also examines the male ego in relation to work and impotence, working class life in the post-industrial north, homosexual relationships and father's rights.
Not to mention the fact that had the acting categories not been so stacked that year, then Robert Carlyle might just have been in with a shout of a Best Actor nod, and I would even go as far to say that Mark Addy might have received a Best Supporting Actor nomination, but I guess four was still pretty great, considering the film went through difficult production, was made on about £3 million, and was a film least likely to appeal to international audiences since, well, I can't think of another.
But as it stands, The Full Monty was a hit with American audiences, even though the international release was heavily edited to ensure that some of the more difficult to understand British slang, and some audiences in the US of A were even given translation sheets so they could understand the slang that was kept in.
Robert Carlyle may have thought that the film was "a load of f****ing pish" at the time, but it did help to launch the career to a much wider audience of not only the Glaswegian but of co-stars such as Mark Addy, Tom Wilkinson and the other unemployed strippers!
Speaking of which, many of the films actors have gone on to enjoy very successful careers, but if it's been a while since you watched the feel-good British classic, and you might not know what its stars are up to now, well let's take a look, shall we?
Lesley Sharp – Jean
The role of Jean – Dave's wife in The Full Monty – scooped actress Lesley Sharp a BAFTA for Best Supporting Actress, and she capitalised on her new-found fame and became one of Britain's most recognisable actresses.
Always busy, Lesley Sharp has enjoyed success in shows such as Bob and Rose, Vera Drake, the long-running hit Scott and Bailey, as well as the Netflix and ITV show Paranoid.
Most recently, she starred in the BBC drama Three Girls.
Robert Carlyle – Gaz
Interestingly enough, Nicholas Lyndhurst was the first choice for the role of Gaz, but he turned it down. Then producers had the late great Rik Mayall in mind, but that didn't pan out, but as great as the aforementioned talents are in their own ways, no one could have played Gaz like Robert Carlyle did.
Carlyle was already a big name in cinema thanks to his turns in the Danny Boyle projects of Hamish Macbeth and more significantly Trainspotting – a film which became a cult phenomenon, and is regarded today as one of the greatest films of the 90s – but when Robert Carlyle played Gaz – the out of work father who tries to convince everyone to get on the stage in the first place – in The Full Monty, he was introduced to a whole new audience, as the film that rested on his shoulders became one of the hits of the year as it picked up momentum all the way to the Oscars.
Since starring in The Full Monty, Carlyle has never been too far away from Hollywood, starring in films such as The World is Not Enough, Angela's Ashes, 51st State alongside Samuel L Jackson and 28 Weeks Later, which, for my money, is one of the best horror films ever made.
More recently he's made an impressive home for himself on television, having starred in Stargate Universe from 2009 until 2011 and Once Upon a Time from 2011 onwards.
He even starred in Oasis' 2002 music video Little By Little!
Steve Huison – Lomper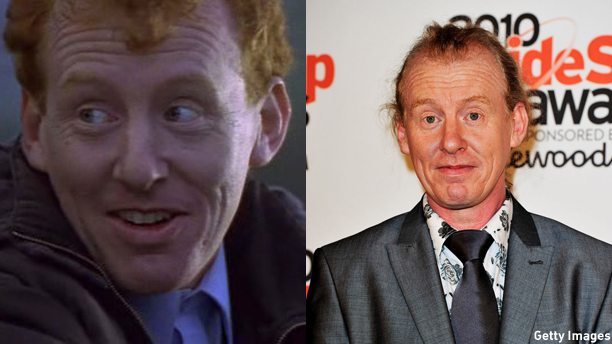 Lomper may have not have looked like your average Chippendale material, but the red-headed former security guard at the factory in which Dave and Gaz once worked was ushered into the group after Dave saved him from trying to take his own life – much to Lomper's dismay.
After appearing in The Full Monty, Steve Huison appeared in TV shows such as Dinnerladies, Peak Practice and Casualty. He also appeared for nearly 200 episodes in Coronation Street as Eddie Windass.
Though he still works sporadically in TV and film, Huison has taken a rather more artistic path in his career in recent years, and moved to Robin Hood's Bay a few years ago with his wife and family to concentrate on his art. As well as playing guitar as a performing musician, he had an exhibition at the Pyramid Gallery in York last year called A Year In Bay, and features various portraits of Robin Hood's Bay residents in ink, graphite and oils. They really are amazing.
But he still keeps his hand in when it comes to acting, and will appear in a feature film next year entitled The Runaways.
Tom Wilkinson – Gerald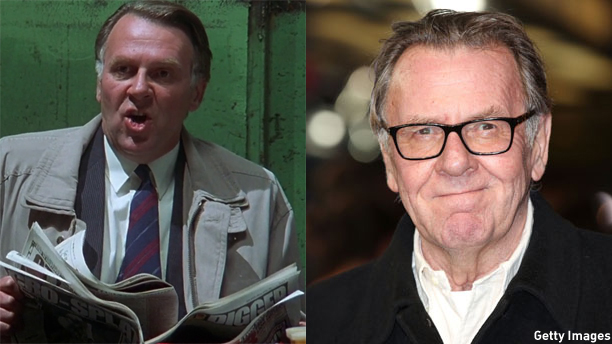 Grumbling factory foreman Gerald may have been in opposition to the idea at the start, but when it came down to it, he was one of the driving forces behind getting the boys up on that stage and getting their kit off, but of course, leaving their hats on!
Gerald didn't have many other choices when it came down to it, as he was made redundant from his position, and as the sole breadwinner, he took the responsibility of providing on his shoulders alone. He just couldn't, however, bring himself to telling his wife that he had in fact been on the dole for six months, and as a result, he took to the stage and let it all hang out.
After The Full Monty, Tom Wilkinson went on to rousing success in Hollywood, and even scored himself two Academy Award nominations for roles in Michael Clayton and In The Bedroom.
Already a seasoned veteran of the acting game by the time The Full Monty rolled around, he nonetheless shot to a new level of fame and has been a fixture in Hollywood ever since, starring in films such as Shakespeare In Love, Rush Hour, The Patriot, Batman Begins and Eternal Sunshine of the Spotless Mind.
Still as busy as ever, Tom Wilkinson has starred in four productions this year, and has another film in post production that will be released next year.
Paul Barber – Horse
We'll let you work out why he was called Horse (here's a clue, it wasn't because of his passion for the races). To some people, Paul Barber, who is now 66, will forever be known as Denzil from Only Fools and Horses, but since The Full Monty, Paul Barber has enjoyed a steady string of roles, as well as his appearances in the 2001-2003 revival of Only Fools and Horses.
Most recently, he has appeared in Death in Paradise and One Night in Istanbul, The Dumping Ground, and will appear in a feature length film Gloves Off, which is due out this year.
Mark Addy – Dave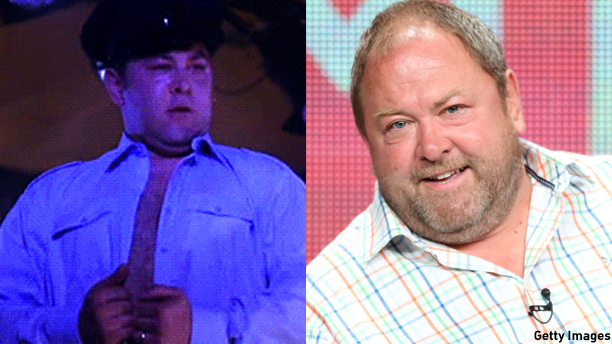 One of the true joys of life is to watch Mark Addy steal the first series of Game of Thrones, as he owns every scene in which he plays the gluttonous king Robert Baratheon. But before that, he played the body-conscious Dave in The Full Monty. With almost every laugh out loud moment coming from one of Mark Addy's perfectly delivered punch lines, as well as breaking our hearts as he struggles to find confidence in himself, Dave could be argued as being the heart and soul of the film, as well as the character that pushes a lot of the film's themes, such as impotency, body image, and the links between work and a feeling of purpose in men.
After appearing in The Full Monty, Mark Addy capitalised on his newfound fame with a string of appearances and starring roles in major productions, such as Jack Frost, Around the World in 80 Days, The Flintstones, A Knight's Tale, The Time Machine and Robin Hood. He also made a name for himself in the UK with his turn in The Thin Blue Line in 1996.
Like Carlyle, Mark Addy has also made the transition to the small screen in recent years, as the golden age of television continues going strong, and starred in Game of Thrones, Atlantis, Trollied and New Blood.
Emily Woof – Mandy
Actor and author Emily Woof played Gaz's ex-wife in The Full Monty, and was often exacerbated with his behaviour. It was her demands for child support that acted as the catalyst for Gaz's decision to try and put together the Chippendales-esque show.
Since starring in The Full Monty, Woof has gone on to star in Nancy in the 1999 mini-series Oliver Twist as well as in Daylight Robbery. An accomplished author, she has also released two novels.
Hugo Speer – Guy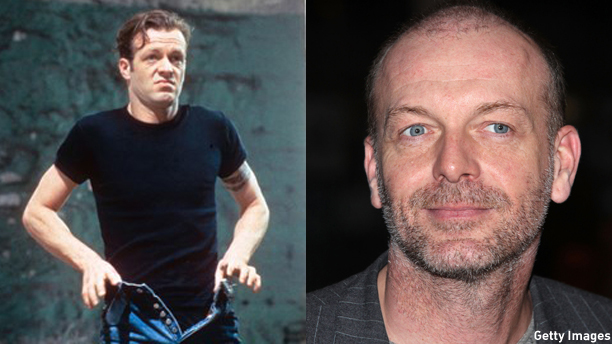 Guy may not have been the best dancer of the bunch, but it certainly wasn't a chore to look at him, which pretty much made him a dead cert in the group. Hugo Speer's character Guy formed an unlikely relationship with Lomper towards the end of the film, to which Dave famously said: "Oh well, ain't nowt as queer as folk."
Speer, who is now 47, has remained a constant on British TV ever since his big break in The Full Monty, and has appeared in shows such as Bleak House, Midsomer Murders and The Musketeers. He has also appeared in films such as Vera and the controversial Nymphomaniac: Vol. 1
A drink driving ban in 2009 saw him make headlines for less than complimentary reasons, but since then he has, besides his TV work, also narrated factual programs for Discovery HD, and other shows such as Cops with Cameras, Channel 5's The Bachelor, Channel 4 series 999: What's Your Emergency? and the BBC series Seaside Rescue.
William Snape – Nathan
Of all the actors that appeared in The Full Monty, William Snape may be the one to have changed the most – principally because he was only a small boy when he played the role of Nathan – Gaz's son.
Now 31 (doesn't that make you feel old), William has had a string of acting jobs in shows such as Holby City, Emmerdale and Heartbeat, but has yet to enjoy the sort of success that some of his co-stars have gone on to enjoy, but there is plenty of time yet!