Great British Bake Off judge Prue Leith has shocked fans of the show, as she appeared to spoil the ending of the series finale by revealing the winner too soon.
We're not going to reveal the name of the contestant that was mistakenly congratulated too soon by Prue in a tweet sent out this morning, because we don't want to ruin the show for all you fans out there!
Prue blamed the time difference for her "f*** up", as she revealed that she was in Bhutan when she posted the tweet.
She has expressed a great deal of remorse for her mistake of accidently revealing the winner, saying: "I'm in too much of a state to talk about it."
Prue later tweeted: "I am so sorry to the fans of the show for my mistake this morning, I am in a different time zone and mortified by my error."
And she has also said: "I'm in Bhutan. The time difference is massive. I thought that they got it six hours ago. I'm in too much of a state to talk about it. I f***** up."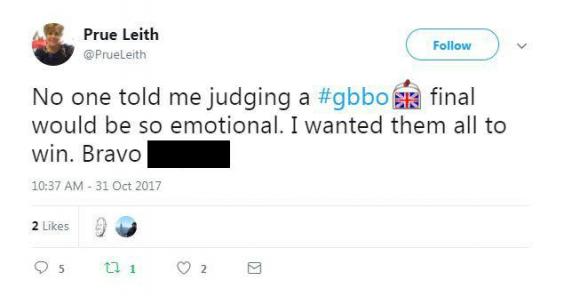 The blunder came just minutes after Channel 4 bosses said that Prue Leith would be returning for next series alongside fellow judges Noel Fielding, Sandy Toksvig and Paul Hollywood.
Tonight's series finale will see the three remaining contestants – Sophie Faldo, Kate Lyon and Steven Carter-Bailey – go at it for the coveted prize.
Bookmakers have made Sophie the strong favourite going into the final show tonight.
Before the latest series began, Prue advised viewers who weren't taking well to GBBO's move from BBC to commercial environment, to fast forward the adverts.
She said: "I want to comfort some people who might think, 'Oh, I don't want to go to Channel 4 because I don't want to have the ads'. You don't have to watch it in real time, do you?" Leith said.
'Prue Leith is totally better than Mary Berry'

*Reveals who won #GBBOFinal*

Me: pic.twitter.com/VKnzf9ZOrP

— MATT (@M44Tweet) October 31, 2017
Her comments didn't exactly chime with those of Channel 4's chief executive Jay Hunt, who had said only moments earlier that she was "very sensitive" to the show's move from the BBC to a channel with advertising breaks.
On the subject of the adverts, Hunt said: "We need to be really careful that audiences go with the programme and they're comfortable watching it and they're not a distraction."
But we are a commercial broadcaster and we do need to pay for shows like Bake Off, so I make no apology for there being ads in it.
Everyone will be watching the #GBBOFinal tonight – hoping Prue Leith had the Steve Harvey moment when she put out that tweet pic.twitter.com/iRnLU7yCi3

— Derek Momodu (@DelMody) October 31, 2017
"We've been very, very careful about thinking where the ad breaks sit."